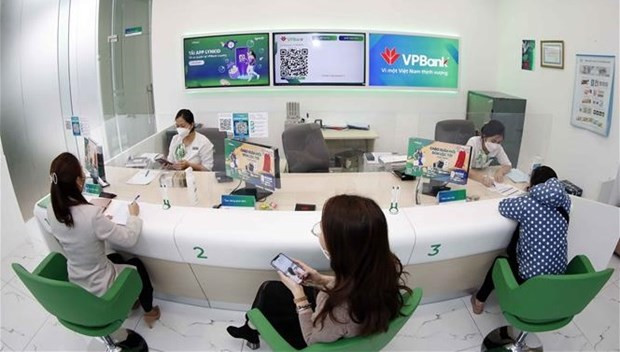 Customers at a branch of Vietnam Prosperity Joint Stock Commercial Bank (VPBank). (Photo: VNA)
Vietnam's credit growth as of June 9 expanded by 17.09 percent against the same period last year, Deputy Governor of the State Bank of Vietnam (SBV) Dao Minh Tu said on June 15.
He revealed the figure at a press conference held by the central bank to review the performance of the banking sector in the first six months of this year, adding that it is in line with the more positive developments of the economy.
According to the SBV Deputy Governor, during the period, credit and monetary policies have gradually been harmonised with the new normal, focusing on increasing investment in various fields of the economy. Since the beginning of this year, the SBV has directed institutions to concentrate credit on business and production, and prioritised fields as well as strictly controlling credit for potential risk areas.
In the coming time, positive credit growth along with the impact of the economic stimulus package will support the nation's economic recovery, he said.
By the end of April, credit institutions have extended the payment deadline and reduced interest rates for debts worth over 695 trillion VND (29.8 billion USD) for 1.1 million customers. Banks have also frozen and waived interest rates for about 490,000 clients with combined outstanding loans of nearly 91 trillion VND.
Vietnam is likely to face the risk of inflation in the future, he said, adding that the global monetary and financial situation has many fluctuations that will affect the country because its economy is open.
He said that the SBV will monitor market developments at home and abroad as well as the pandemic situation to synchronously and flexibly manage monetary policies to control inflation, stabilise the macro-economy and support economic recovery.
Construction Ministry proposes controlling bond issuance of property firms
The Ministry of Construction (MoC) has proposed controlling the bond issuance activities of real estate enterprises but not tightening investment in real estate bonds, Nguyen Manh Khoi, Deputy Director of MoC's Housing and Market Management Department, said at the monthly press conference held on June 13.
The ministry has proposed amending Decision 153/2020 with the goal of managing corporate bond issuance activities to avoid the property bond market overheating.
Khoi said that the State Bank of Vietnam and the Ministry of Finance are in charge of the management and control of bond issuance activities. Meanwhile, the Ministry of Construction is to propose solutions to manage bond issuance activities of real estate enterprises.
Like businesses in other sectors, real estate enterprises have mobilised capital to implement projects via many channels such as issuing bonds, building joint ventures to contribute capital, and borrowing credit from banks or core capital.
However, most domestic real estate enterprises do not have much core capital and depend on loans from banks. After the State Bank tightly controlled capital for the real estate market, businesses had to switch to issuing bonds. Therefore, to develop the domestic real estate market in a more healthy and sustainable direction, it is necessary to control and adjust capital flowing into this field.
For property tax, a MoC representative said that the Ministry of Finance has just proposed collecting this tax. MoC would study this issue and provide recommendations with the goal of controlling housing prices. That will help the market become more healthy and sustainable.
The MoC representative also said that the proposal on imposing tax on property has not yet been officially studied. The National Assembly's law- and ordinance-making programmes have not yet focused on this proposal.
MoC also reported at present, housing prices have shown signs of cooling down, but are still at a high level compared to the same period in 2021 and the end of 2021.
Vietnam strives to fuel post-pandemic inbound tourism
Three months have passed since Vietnam completely reopened its tourism activities, including both inbound and outbound tours. While domestic travel is witnessing a boom, stronger efforts are needed to seize post-pandemic opportunities to attract more international visitors.
Vietnam welcomed 172,900 foreign arrivals in May, shooting up 70.6 percent month on month and 12.8-fold year on year. The five-month figure increased 4.5-fold year on year but still nosedived 95 percent from the same period of 2019, before the COVID-19 pandemic broke out, according to the General Statistics Office.
Many travel agents said tours to Southeast Asia and Northeast Asia are currently magnets for Vietnamese travellers thanks to these destinations' favourable visa and "vaccine passport" policies. Some companies strong at arranging tours to Europe and the US have also recorded an increasing number of customers.
However, the VNAT pointed out that although inbound tourism has been reactivated, the number of international visitors to the country has yet to reach pre-pandemic levels.
To attract more foreign tourists, Chairman of the Vietnam Tourism Association Vu The Binh suggested enterprises recruit new personnel, provide more training to their existing employees while developing new products and upgrading old ones so as to bring new experiences to travellers.
VNAT General Director Khanh recommended companies step up tourism promotion in potential markets such as Europe, Japan, the Republic of Korea, Singapore, and Thailand. Both travel firms and localities should boost the application of technology to enhance the attractiveness of their destinations and tourism products.
Vietnam attends 53rd International Fair of Algiers
Vietnam's typical products, including rice, tea, coffee, traditional long dress and palm-leaf conical hats, are being showcased at the 53rd International Fair of Algiers held at the Safex Exhibition Centre under the slogan "For a strategic partnership."
Vietnamese handicrafts and food are also offered to visitors to the fair which kicked off on June 14.
The four-day event attracted the participation of 698 companies, including 187 foreign companies from about 20 countries worldwide. They operate in various sectors, namely energy, construction, agriculture, industry, services, garment and textile, aviation, and education, among others.
Vietnam attends 12th WTO Ministerial Conference in Geneva
Minister of Industry and Trade Nguyen Hong Dien joined trade ministers and senior officials from 164 member countries of the World Trade Organisation (WTO) at the 12th WTO Ministerial Conference (MC12) that took place in Geneva, Switzerland, from June 12-15.
The Vietnamese delegation also included Ambassador Le Thi Tuyet Mai, Permanent Representative of Vietnam to the United Nations, the World Trade Organisation (WTO) and other international organisations in Geneva, and representatives from the Ministry of Industry and Trade, Ministry of Foreign Affairs, and Ministry of Agriculture and Rural Development.
Addressing the event, Dien affirmed support for the multilateral trade system and Vietnam's efforts to join hands with other WTO members to deal with challenges facing the global economy.
However, the minister pointed out a number of shortcomings of the organisation, including internal ones identified during MC11 yet hardly resolved until today.
He highlighted that since joining the WTO, Vietnam has been and will continue be wholeheartedly committed to the multilateral trading system.
Vietnam is attaching great importance to key WTO negotiations such as fisheries and agricultural subsidies, he said, expressing hope that the members can focus on topics of urgency and interest such as securing supply of food and essential goods for the people in a comprehensive and practical fashion.
At a discussion on trade and climate change on the sidelines of MC12, the minister underlined that climate change mitigation is an important factor to achieve equality in the world, and held that the key issue is to achieve carbon neutrality while maintaining economic growth and improving living conditions for all, especially vulnerable groups.
He gave a number of proposals to speed up actions against climate change during trade activities, and underscored the need to take into account specific conditions of each country to avoid the mechanical application of environmental standards in developed countries to developing countries, either directly or indirectly.
According to the minister, the formation of an alliance of trade ministers in climate change can be a way to realise these goals, along with the enhancement of cooperation and discussion not only within the WTO but also regional and bilateral collaboration frameworks.
Automobile sales rose 3.4 percent in May
Members of the Vietnam Automobile Manufacturers' Association (VAMA) sold 43,816 vehicles of all kinds in May, up 3.4 percent from the previous month.
The figure included 35,210 passenger cars, up 5 percent, 7,927 commercial vehicles, down 0.8 percent, and 677 special-purpose vehicles, down 13 percent month on month.
Of the sold units, 25,580 were domestically assembled cars, up just 1 percent, while the remaining 18,236 were imported, up 5 percent from the previous month.
In the January-May period, VAMA members sold 176,681 units, rising 39 percent year on year. The sales of passenger cars surged 57 percent to 140,109, while that of commercial vehicles were down  5 percent to 33,677, and special purpose vehicles, up 21 percent to 2,895.
Vietnam sees growth in garment exports in first five months
     
Viet Nam achieved high export growth in the first five months of this year as businesses strived to promote investment in production and exports.
In the first five months of the year, Viet Nam's textile and garment export value reached US$18.7 billion, up 23.5 per cent.
However, the conflict between Russia and Ukraine had caused instability in the world supply chain and the risk of supply disruption. Both high input cost and cost of logistics and petrol forced the textile and garment companies to find ways to adapt.
So far, the supply of raw materials and accessories of Viet Thang had been basically stable. However, importing spare parts, equipment and supplies from Europe would take 12 to 20 weeks, higher than the 6-8 weeks before. If this situation does not improve, it would affect its production and export plans.
Meanwhile, the chairman of Viet Nam National Textile and Garment Group (Vinatex) Le Tien Truong, said that Vinatex gained a growth of 50 per cent in revenue during the first quarter of 2022.
However, Vinatex also faced many challenges impacting negatively on the domestic textile industry as well as the group in the first quarter, including the Russia-Ukraine conflict and a reduction in the economic growth of developed regions like the US and EU.
Vinatex general director Cao Huu Hieu said that it gained the results due to previous investment in preparing raw materials. In 2015-2020, Vinatex invested in a number of yarn production projects with modern technology to produce common high quality products.
In 2021, Vinatex also put two yarn production projects into operation to increase Vinatex's yarn production capacity to more than 50,000 spindles.
Most of the group's yarn production companies had enough orders signed by the end of 2021 to produce until the end of 2022.
For the garment industry, after the pandemic was under control, member companies quickly stabilised labour and recovered effective production.
The garment companies have enough orders to produce in the second quarter, and many have signed contracts to produce until the end of the third quarter or even the end of this year.
To promote the export of textile and garment products, enterprises must continue investment in expanding production facilities and proactively supply materials and auxiliary materials to meet rules of origin and take export opportunities from new-generation free trade agreements, experts say.
Project launched to help Vietnam better financial market supervision
A project to improve early warning and risk management capacity for Vietnam's financial sector was launched at a ceremony held by the National Financial Supervisory Commission (NFSC) and the Korea International Cooperation Agency (KOICA) in Vietnam on June 15 in the northern province of Quang Ninh. 
This is a non-refundable official development assistance project funded by the government of the Republic of Korea (RoK) through KOICA Vietnam. The direct beneficiaries are financial management and supervision agencies of Vietnam, the Ministry of Finance, the State Bank of Vietnam (SBV), and the Ministry of Planning and Investment.
The five-year project aims to early detect risks and have a plan to respond to uncertainties in the financial sector of Vietnam, thereby helping to ensure the stability of this area and support Vietnam's development goals to 2030.
In his opening speech,  NFSC Vice Chairman Vu Nhu Thang said the project will support the commission in developing a common early warning system for Vietnam's financial market.
The project is expected to help the agency's staff detect risks in the Vietnamese financial system in general and financial institutions in particular, thus promptly proposing measures to manage, supervise, prevent and ensure system safety and improve the quality of human resources for the commission and co-beneficiaries.
The project will also bring benefits to foreign financial institutions and companies, including financial institutions and companies of the RoK operating in Vietnam, Thang said, adding that it will also contribute to strengthening cooperation and friendship between the Vietnam and RoK in general, and between NFSC and KOICA and the RoK's Financial Services Commission (FSC) in particular.
Bank interest margins under pressure due to high inflation
     
Experts forecast that bank net interest margins (NIM) will decline as inflation rises next month.
Viet Nam's consumer price index in the first five months of the year edged up 2.25 per cent year-on-year while core inflation rose by 1.1 per cent, according to the General Statistics Office (GSO).
Experts are concerned it will be difficult for the country to meet the Government's inflation target of 4 per cent this year due to increasing prices of oil and basic commodities in the wake of the war between Russia and Ukraine.
Meanwhile, banks cannot raise the lending interest rate correspondingly or even have to keep the rate unchanged to support the economic recovery as directed by the central bank.
Tran Thi Khanh Hien, analysis director of VNDirect Securities Company, forecast a declining trend in banks' NIM, explaining it would be difficult for banks to cut saving rate despite a stable lending rate as they still have to lure deposits to ensure liquidity and meet the central bank's requirement on capital adequacy ratio.
Industry insiders are also concerned as bank profits currently rely on about 70 per cent of credit. A decrease in NIM, therefore, will affect profits.
Deposit interest rates are under increasing pressure due to rising inflation and stronger-than-expected credit growth.
By the end of April, the Vietnamese dong interest rates traded between banks on the interbank market declined by 0.5-0.7 percentage points per year but increased again in early May 2022. Specifically, the interbank interest rates in early May 2022 were 0.1-0.4 percentage points per year higher than the rates at the end of April on short terms of less than one month.
VNG receives all 16.9 million shares from foreign shareholders
     
In a recently published document of the 2022 Annual General Meeting of Shareholders, VNG proposed many contents related to the treasury stock offering, employee stock ownership plan (ESOP) and share transfer of foreign investors.
Accordingly, VNG Limited is expected to receive 16.9 million shares, equivalent to nearly 47.4 per cent of VNG's total shares, from 13 foreign shareholders.
Its management also asked the 2022 Annual General Meeting of Shareholders to approve the exemption from the tender offer for the share transfer transaction of VNG Limited – a new legal entity established at the beginning of April in the Cayman Islands.
The deal must ensure that the foreign ownership ratio does not exceed 49 per cent.
Currently, VNG is also an investor in Tiki and holds 15.2 per cent ownership of Tiki Global. Previously, in July 2021, VNG completely exchanged an investment in Tiki into 4.6 million of the company's shares, worth US$0.43/share.
Vietnam's pork industry faces shrinking consumption and domestic supply
Vietnam's pork industry is growing slowly due to the decrease in consumption and domestic supply, posing enormous challenges for farmers.
Ipsos Vietnam's latest study about pork and meat consumption in the country this year revealed that local people are consuming less pork. In 2018, each Vietnamese person ate about 32kg per year, but six years later, that figure has dropped to about 24kg per person.
From 2018 to 2020, pork accounted for the second-largest market share – about 36 per cent of the total meat protein consumption – but has encountered negative growth ever since the outbreak of African Swine Fever.
After 2020, similar to the trend in many countries in the region, meat consumption per capita in Vietnam is still on the rise thanks to the increase in the population's income and the fact that consumers have more choices for meat types.
Over the past six months, sow farmers in Vietnam have faced two significant difficulties – African Swine Fever and rising feed prices. As shared by some swine farmers, the profit margin of their farms during the studied period was low, leading to many being afraid to re-herd or deciding to re-herd very cautiously.
Under the current context, the re-herding will continue to face a challenging period, as the African Swine Fever vaccine has not yet been announced and the continuous surge of feed prices is expected until the end of the year.
Ipsos forecasts the country's total sow herd will increase slightly by only 2-3 per cent by the end of October compared to the end of April.
The ex-farm price of live hogs will increase slightly by the end of October despite facing a continuous decline at the end of April and other drops in previous periods last year.
Site leveling for Long Thanh airport project to be completed in mid-2023
Deputy Prime Minister Le Van Thanh has ordered the site leveling of the Long Thanh International Airport project in Dong Nai Province be completed in July 2023.
Speaking at a meeting of the Government's steering committee on the project on June 14, the deputy prime minister said that the site leveling process had been moving slowly.
To complete the site leveling of over 100 million cubic meters in July next year, the Airports Corporation of Vietnam (ACV), the big-ticket project's investor, was asked to ramp up the workload and execute the process in three shifts.
Cao Tien Dung, chairman of Dong Nai Province, said the province handed over 2,398.4 hectares of the total 2,532 hectares of land for the first phase of the project. The remainder will be handed over this month.
As of June 12, the total volume of leveled land had amounted to 11.5 million cubic meters, said ACV General Director Vu The Phiet.
The area that needs to be leveled remains large, so ACV must level 10 million cubic meters each month to ensure the process runs on schedule and is completed in July 2023, said Minister of Transport Nguyen Van The.
The deputy prime minister also asked the Ministry of Transport to work with the Ministry of Construction to complete the approval and appraisal for the design in July and break ground on the passenger terminal in October.
Four officials in Quang Ninh charged with alleged involvement in Viet A case
Four officials in Dong Trieu Town, Quang Ninh Province, have been prosecuted for allegedly violating bidding regulations while procuring Covid test kits from Viet A Technology Corporation.
Investigators of the Quang Ninh Police Department issued decisions to file charges against them yesterday, June 13. They are accused of abusing power while on duty.
These include Nguyen Thi Thanh Hao, head of the Dong Trieu Finance and Planning Division, while the other three, Dao Thi Kim Dung, Nguyen Thanh Dinh and Nguyen Xuan Tien, are healthcare officials of the town.
The preliminary investigation results showed that they did not comply with the prevailing regulations while signing on bidding documents and approving an incorrect number of test kits used to make payments to Viet A Company, causing losses for the State.
The investigators are expanding the probe into the case to track down those involved.
Hue to put into use new passenger terminal later this year
Passenger terminal T2 at the Phu Bai International Airport in the central province of Thua Thien Hue will be put into operation in November 2022 with a capacity of five million passengers per year.
The VND2,250-billion project, funded by the Airports Corporation of Vietnam (ACV), will be completed one year later than the original plan due to the negative impacts of Covid-19, according to the Thua Thien Hue People's Committee.
Specifically, the project has a total construction floor area of ​​​​about 22,381 square meters; its design features the Hue royal architectural culture.
In the past two years, serious social distancing and the pandemic have caused difficulties in implementing the project. The other challenges are scarce raw materials, increasing prices, abnormal weather and heavy rains.
Surging fuel prices ratchet up pressure on other goods
The soaring prices of gasoline and other fuels have pushed up the prices of other goods and services, such as education, healthcare, construction materials and transport, Deputy Prime Minister Le Minh Khai, head of the steering committee for price management, told a meeting on June 13.
Speaking at the meeting chaired by the deputy prime minister, a Ministry of Finance official said that soaring global inflation had impacted the country's inflation in the first five months of 2022. Between January and May, the consumer price index (CPI) increased by 2.25% year-on-year, driving inflation during the five-month period up 1.1% year-on-year.
The ministry attributed the hike in CPI to the spike in fuel prices induced by rising global prices, and a surge in the prices of construction materials, rice and the rising post-Covid demand for lodging, catering and traveling.
Some ministries and agencies said price management would be challenging in the coming months, leading to higher inflation. As such, it is necessary to balance supply and demand, ensure the supply of necessities, manage monetary policy and effectively regulate prices and control inflation.
The deputy prime minister asked the State Bank of Vietnam to work with the Ministry of Finance and other ministries and departments to harmonize monetary, fiscal and macroeconomic policies to bring inflation under control this year.
Binh Duong wood industry faces challenges
In the first five months of the year, the Binh Duong wood industry had impressive performance when the export value of wood products was estimated at more than US$3 billion, up 3.2 percent over the same period, accounting for 19.1 percent of the provincial export turnover. However, with sharp fluctuations in petrol prices, foreign exchange rates, and general difficulties of the global economy, Binh Duong Furniture Association (BIFA) forecasts that in the last months of this year, the wood industry will face great challenges.
According to BIFA's report, in the first quarter of 2022, the production and business activities of its member enterprises increased by 42 percent over the same period in 2021, with many enterprises having good growth. Specifically, Trieu Phu Loc Production Company achieved about 30 percent of the year plan and rose by 15 percent over the same period; Truong Thanh Furniture Corporation achieved 94 percent of the year plan and increased by 70 percent over the same period in 2021; Thiet Dan Company achieved 94 percent of the year plan.
Explaining the growth rate of the wood industry over the past time, the Department of Industry and Trade of Binh Duong Province assessed that wood manufacturers had quickly adapted to the new state after the outbreak of the Covid-19 pandemic and they had actively taken advantage of opportunities from free trade agreements (FTAs). As a result, Binh Duong's wood products have been exported to many markets, with a competitive advantage. Especially, the effective EVFTA has a favorable impact on the Vietnamese wood industry when the tax rate is gradually reduced to zero percent.
However, according to BIFA Chairman Nguyen Liem, the wood industry is facing challenges as major consumer markets, namely the US and Europe, tend to decrease due to geopolitical fluctuations, difficulties after the social distancing to prevent the Covid-19 pandemic, and the US dollar depreciation. Therefore, the demand for wooden furniture is low because people prioritize shopping for other essential items.
According to a survey by BIFA, shortly, many wood processing factories in Binh Duong may not have orders for production, such as Karta Joint Stock Company and TPP One Company. Some enterprises have seen new contracts drop sharply compared to last year. For instance, Thinh Phat Tan Uyen Wood Trading & Production Company and An Khang Company Limited both have seen a decrease of 50 percent, and Interwood Company 40 percent.
69 businesses in HCMC owes VND4 trillion in tax
The Ho Chi Minh City Tax Department has just announced the list of enterprises with tax debts in the 3rd phase of 2022.
Accordingly, until the beginning of this May, 69 taxpayers owe a total of over VND3,926 billion (US$169 million) of tax, fine, and late payment. Most businesses with large debts are real estate ones.
The most noticeable tax debtors are The 21st Century International Development Co. Ltd. with VND643 billion ($27.7 million), Saigon Development and Investment JSC. with VND576 billion ($24.8 million), Duc Khai JSC. with VND500 billion ($21.5 million), Housing Development and Trading JSC. with VND420 billion ($18.1 million), Saigon Zoo Co. Ltd. with VND355 billion ($15.3 million).
As stated by law, after 30 days of tax debt, the tax authority will issue an announcement of this debt, along with the fine and late payment calculation. After 60 days, the tax authority will send a written urging notice, clearly mentioning coercive measures to be applied. After 90 days, the tax authority will adopt the mentioned coercive measures to deduct money from the debtor' bank account and temporarily freeze this account.
After 120 days, a decision will be issued on the coercive measure of stating that the sales invoice set of the debtor is invalid. When the time of this decision expires (after one year), if the enterprise still owes tax payment, and the tax authority cannot proceed with the next coercive measure, it repeats the issuance of the above decision.
Vietnam's economic recovery fuels high credit growth: C.bank
Vietnam's credit growth as of June 9 expanded by 8.15% against late 2021 and up 17.09% year-on-year, which is in line with the ongoing economic recovery process.
Vice Governor of the State Bank of Vietnam (SBV) Dao Minh Tu revealed the figures at a press conference today [June 15].
Referring to the current credit quota being imposed on banks, Deputy Director-General of the Monetary Policy Department Pham Chi Quang said the policy remains the SBV's management tool.
According to Quang, before the credit quota policy, commercial banks had had high levels of credit growth that far exceeded theỉ governance capabilities,  posing high risks of losing liquidity.
Quang noted credit growth demand from banks for the past years has been over 20% despite the target of around 14%.
SBV Vice Governor Dao Minh Tu said the banks have been putting efforts into keeping  a stable interest rate environment amid heightened inflation risks and the country's high level of economic openness.
Since late April 2022, the SBV has instructed banks to restructure the payment deadline for total outstanding loans worth over VND695 trillion (US$30 billion) for over 1.1 million customers.
JICA helps strengthen safe agricultural value chains in Viet Nam
The Japan International Cooperation Agency (JICA) and the National Agricultural Extension Centre (NAEC) have launched a project to strengthen safe agricultural value chains in northern localities.
The project, worth US$3 million, will be implemented from 2022 to 2026, in seven northern localities of Ha Noi, Ha Nam, Hung Yen, Hai Duong, Bac Ninh, Nam Dinh and Son La.
NAEC Director Le Quoc Thanh said the project aims to improve the quality of farm produce and ensure their food safety meeting Good Agricultural Practices (GAP) standards, enhancing the competitiveness of Vietnamese fruits and vegetables in the region and the world.
As part of efforts to give technical support to farmers, the NAEC will organize central and provincial project management units in the time to come, and send 18 officials from the units to Japan for training.
This is the third project on strengthening safe farming value chains in the northern region of Viet Nam jointly carried out by the NAEC and the JICA.
Earlier, the two sides successfully cooperated in building fundamental GAP and make it a technical procedure for safe vegetable farming in 2014 as well as developing selling channels for safe farm produce./.
Source: VNA/SGT/VNS/VOV/Dtinews/SGGP/VGP/Hanoitimes